Rishi Sunak was overheard saying the Government should focus on handling its scientific advisers rather than the spread of Covid-19, the inquiry into the UK's pandemic response has been told.
A series of diary entries from former chief scientific adviser Sir Patrick Vallance was shown to the probe on Monday.
Mr Sunak's comment was allegedly made in July 2020 as plans were being made to reopen the country after the first national lockdown.
A note by Sir Patrick on July 2 read: "In the economics meeting earlier today they didn't realise CMO (chief medical officer Sir Chris Whitty) was there and CX (then-chancellor Rishi Sunak) said, 'It is all about handling the scientists, not handling the virus'.
"They then got flustered when the CMO chipped in later and they realised he had been there all along. PM (then-prime minister Boris Johnson) blustered and waffled for five mins to cover his embarrassment."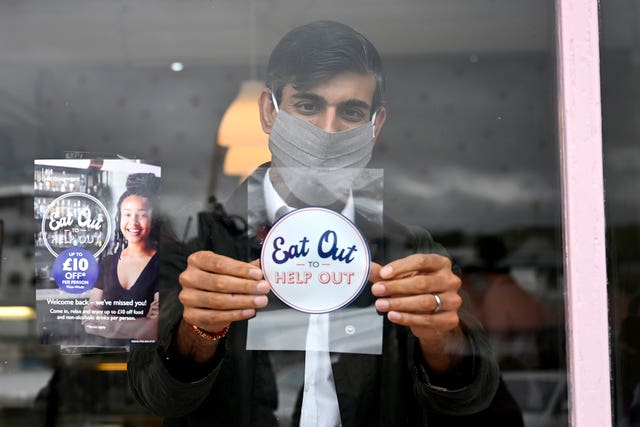 Mr Sunak was behind the Eat Out To Help Out scheme, an initiative launched in August 2020 to kickstart restaurants and eateries post-lockdown.
Sir Patrick told the inquiry that scientists were unaware of the policy until it was announced.
But part of Mr Sunak's witness statement was shown to the probe, with the now-Prime Minister saying he did not recall "any concerns about the scheme being expressed during ministerial discussions", including those attended by Sir Patrick and Sir Chris.
Sir Patrick said: "We didn't see it before it was announced and I think others in the Cabinet Office also said they didn't see it before it was formulated as policy. So we weren't involved in the run up to it."
He added: "I think it would have been very obvious to anyone that this inevitably would cause an increase in transmission risk, and I think that would have been known by ministers."
Asked about Mr Sunak's understanding of the risks, Sir Patrick said: "If he was in the meetings, I can't recall which meetings he was in. But I'd be very surprised if any minister didn't understand that these openings carried risk."
No 10 would not be drawn on whether the Prime Minister had consulted scientists on the transmission risk of the Eat Out to Help Out scheme before announcing it.
The Downing Street official said a number of people will be setting out their views of the period, but "rather than respond to each one in piecemeal, it's right that it is looked at alongside other evidence".
In his witness statement, Sir Patrick said that the scheme was "not" consistent with "supressing the number of Covid-19 infections to prevent a large wave".
"From the perspective of science advice, it was clear that this scheme would increase viral transmission at a time when a number of other (non-pharmaceutical interventions) had also been lifted."