Police arrested more than 100 Muslims in overnight raids from an area in eastern Pakistan where a Muslim mob attacked churches and homes of minority Christians, prompting authorities to summon troops to restore order, officials said on Thursday.
The attack by the mob was prompted by the alleged desecration of the Koran by a Christian man.
There were no casualties as Christians living in a residential area in the city of Jaranwala in the Faisalabad district moved to safer places following one of the country's most destructive attacks against Christians.
Christians slowly returned to their homes Thursday, only to see the destruction of at least one church that was burned.
Four other churches were also damaged and two dozen homes were torched or badly damaged during the riots.
Speaking outside her home, which had been torched, Shazia Amjad said: "We were sitting at home when suddenly we heard that a mob is coming and it is burning homes and attacking churches."
She told The Associated Press that the rioters burned household items and furniture. Some of her possessions were stolen as she moved to a safer place with her family, she added.
Mrs Amjad said the rioters sprinkled petrol to burn homes in their area and they stole jewellery and other things. Other Christians described similar ordeals and expressed bewilderment.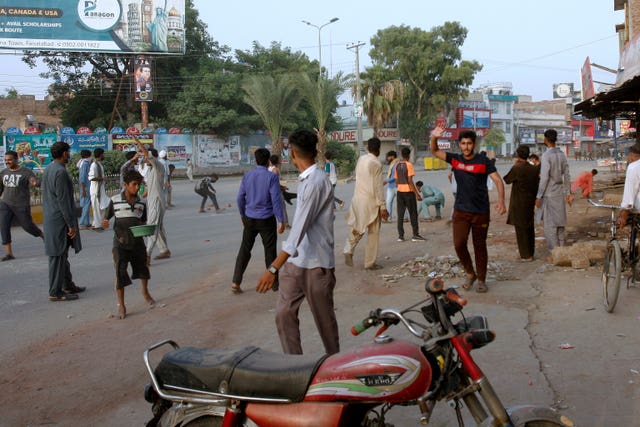 Local Christians consoled each other outside their damaged homes, as many women wept and cried over the destruction. Those whose homes were burned had no idea where to go or what to do now.
On Wednesday, Khalid Mukhtar, a local priest, said that most Christians living in the area had fled to safer places.
"Even my house was burned," he said, adding that he believes most of Jaranwala's 17 churches had been attacked.
Delegations of Muslim clerics arrived in Jaranwala to help calm the situation, as troops and police patrolled the area.
Local authorities have shut schools and offices and banned rallies for a week to prevent more violence.
The violence drew nationwide condemnation, with caretaker Prime Minister Anwaar-ul-Haq Kakar ordering police to ensure the rioters are arrested.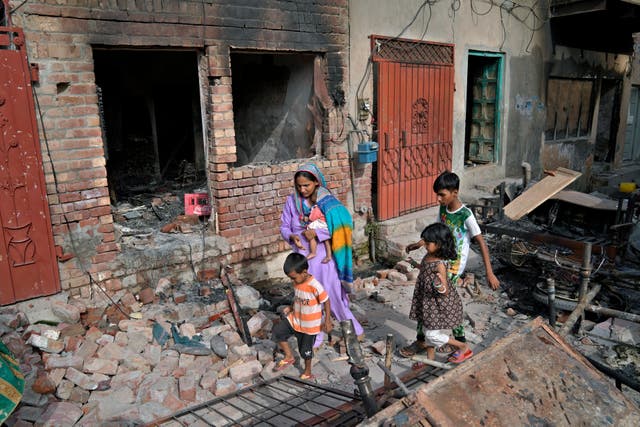 On Thursday, Rizwan Khan, the regional police chief, said 129 suspects had been arrested and the situation was under control.
The violence erupted after some Muslims living in the area claimed they had seen a local Christian, Raja Amir, and his friend tearing out pages from a Koran, throwing them on the ground and writing insulting remarks on other pages.
The city police chief, Bilal Mehmood, said officers had arrested Mr Amir and his friend.
According to Mr Khan, the mob quickly gathered and began attacking multiple churches and several Christian homes.
The rioters also attacked the offices of a city administrator on Wednesday but police intervened, firing into the air and wielding batons to disperse rioters with the help of Muslim clerics and elders.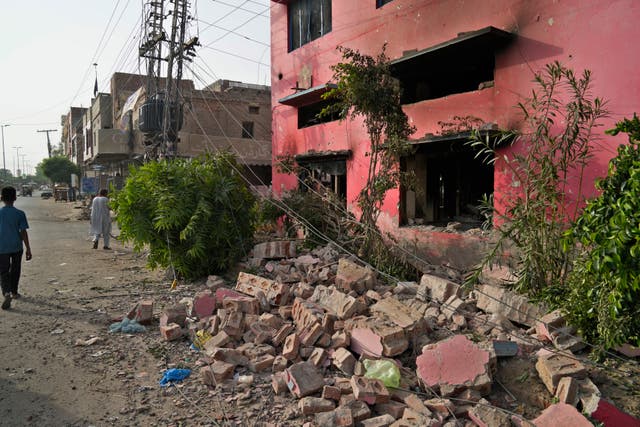 Videos and photos posted on social media show an angry mob descending upon a church, throwing pieces of bricks and burning them.
In another video, four other churches are attacked, their windows broken as attackers throw furniture out and set it on fire.
In yet another video, a man is seen climbing to the roof of the church and removing the steel cross after repeatedly hitting it with a hammer as the crowd down on the road cheered him on.
The violence drew condemnation from various domestic and international human rights groups.
Amnesty International called for repealing the country's blasphemy laws.
Under the country's blasphemy laws, anyone found guilty of insulting Islam or Islamic religious figures can be sentenced to death.
While authorities have yet to carry out a death sentence for blasphemy, often just the accusation can cause riots and incite mobs to violence, lynching and killings.
Domestic and international human rights groups say blasphemy allegations have often been used to intimidate religious minorities in Pakistan and settle personal scores.